dissabte, 14/04/2012 (13:22) per
carles
As I said before, I went to Malaysia. Beside going to the Endau-Rompin jungle I also went, of course, to the Petronas Tower (Kuala Lumpur).
The procedure to get tickets in the Petronas Tower is to go there in the morning and buy tickets for the same day. They only sell tickets for the same day, and Internet mentions that it's sold out in the morning, so you need to arrive early.
One month before going to the Petronas Tower I had a bad experience trying to visit Leonardo da Vinci exhibition in London. So this time I wanted to be sure that I would get the tickets. On the Internet they always say "it's important to go there early" or "7:30 should be enough, but who knows". There is one advantage of going early: you can choose what time you want to visit it. Maybe you buy the ticket at 10 but the only available slot is at 17:00, so you would not have lot of freedom in that day in Kuala Lumpur.
Well, knowing that… I woke up at… 5:15? I arrived at my metro station at 5:40. Oops, first surprise: the metro opens at 6. I waited for 20 minutes and I got the metro to the KLCC station.
Obviously, the metro was quite empty: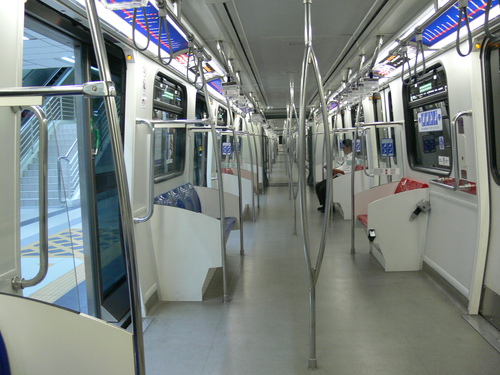 (més…)